Mother Earth Organics produces Organic formulas that heal: polluted soil & water

and makes everything Grow Better.























SoilZyme


soil softener
for: Aeration
& Decompaction





Granular Soil Products
FeedBack Granular
Humates
Concentrated Compost

Paramagnetic Granular Rock Minerals

Paramagnetic Mineral Rock Dust
Biologic Products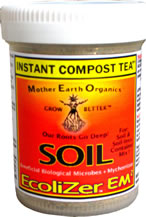 800-770-5010
215-542-1100
Copyright 2012 Mother Earth Organics

Mother Earth Organics Mission
is to Raise Environmental Consciousness,
provide the Organic Tools & Knowledge
to Heal the Earth
& Promote Soil & Plant Health.
For the Good of ALL Living Beings.

Our Roots Go Deep!